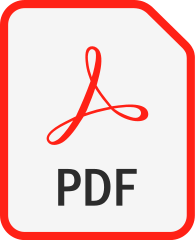 Burgaud.com 6.0 was made available in 2007 and has been replaced by several versions since that. After debating and testing different CMS's (Content Management Systems) over the last few months before releasing version 6.0, I decided to deploy Burgaud.com 6.0 using WordPress. This was also the occasion to look back at the different versions of Burgaud.com between 1999 and 2007.
Burgaud.com 6.0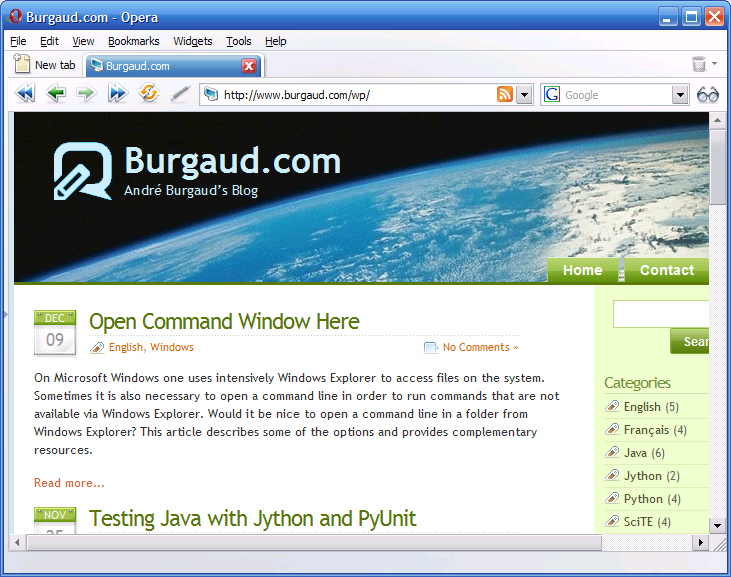 The new site is powered by WordPress. The theme is a slightly modified version of GlossyBlue by N.Design Studio. The following WordPress plugins are used to customize the framework:
PJW Page Excerpt provides page excerpt (by default this feature is only available for posts)
Search Everything allows searching on pages (by default this feature is only available for posts)
SCF2 Contact Form (not available anymore)
ThickBox, plugin based on the JQuery library, displays pictures, screen shots, galleries, listings, without isrupting the navigation flow
WP-Syntax provides syntax highlighting for source code
The decision of using WordPress was taken after several months of evaluation of different products and in-house solutions. The most compelling products I evaluated were:
The French version of Burgaud.com was powered by Drupal until Burgaud.com 6.0. The French articles have been since removed to simplify the maintenance of the site.
The publishing system SPIP had my preference for a while and I started migrating Burgaud.com to SPIP before finalizing on WordPress. I liked SPIP for its style and also the fact that it is a French Product :-)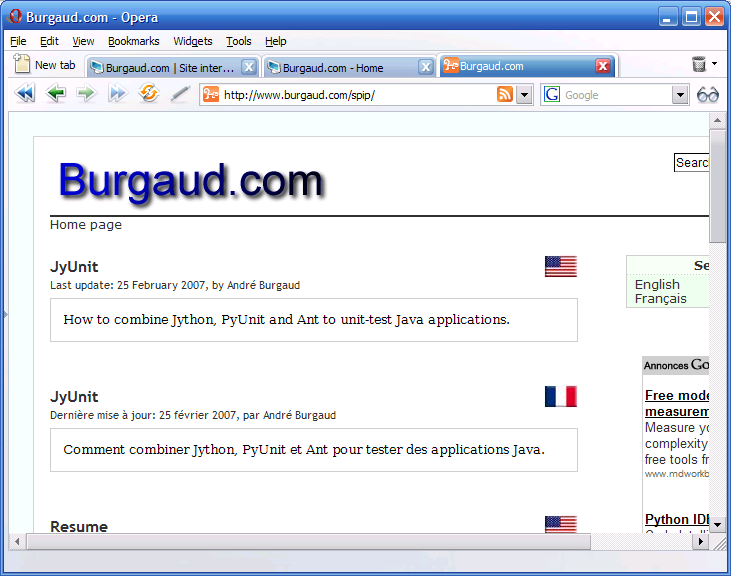 The main factors of the choice of WordPress over the other frameworks were the ease of installation, customization via plugins, themes and maintenance. I also liked TextPattern for the edition mechanism based on the clean and powerful Textile syntax. But for a real customization, TextPattern, like SPIP, require significant amount of efforts and consequently time that I was not ready to spend.
Burgaud.com 5.0
Version 5.0, available on 06/05/2004, displayed static HTML. The difference with the first versions of Burgaud.com was the HTML was generated from pages written in a wiki style. The generator was a product I wrote, named StaticWiki. StaticWiki was written in Python, my favorite programming language. StaticWiki generated valid XHTML from simple text files written with a wiki style. I initially intended to release StaticWiki as an open source product, but I estimated that the code should be first of better quality. Now that I don't use it anymore, this may never happen.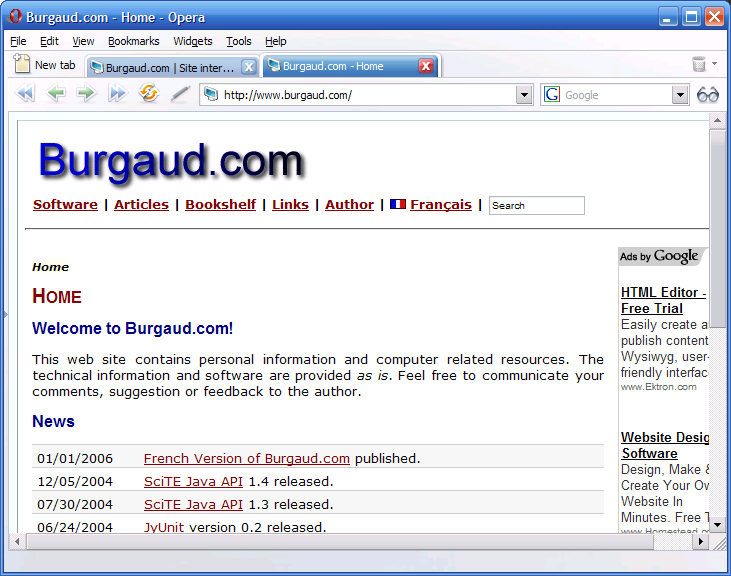 Burgaud.com 4.0
Like Burgaud.com 3.0 it was using PHP, but this time it was powered by PmWiki a popular wiki engine. It was deployed on 12/14/2003. As of this writing, PmWiki remains one of my favorite wiki engines and I have been successfully maintaining a couple of PmWiki instances for personal projects or at my work place.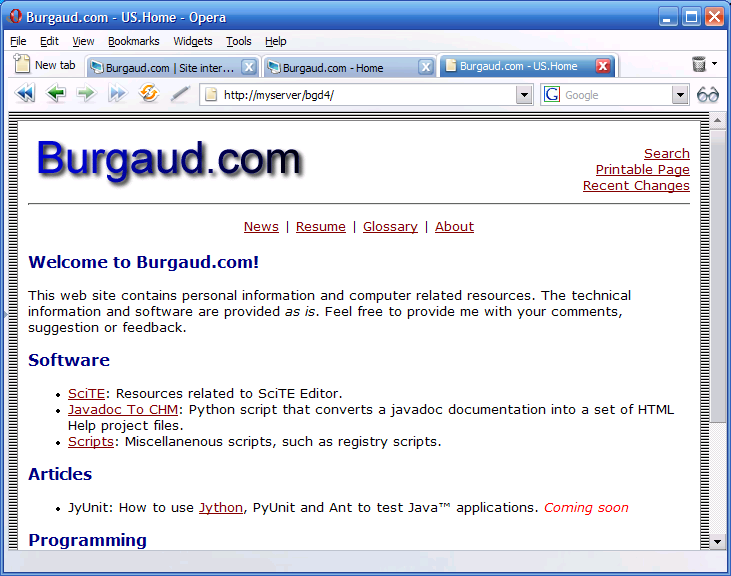 Burgaud.com 3.0
I wanted to learn more about PHP and decided to build this new version using the popular language powering so many web sites. The site was deployed mid-2001. It included the announcement of the birth of Alexis, our son, and had some pages related to SciTE, like SciTE Context Menu, and Javadoc To CHM.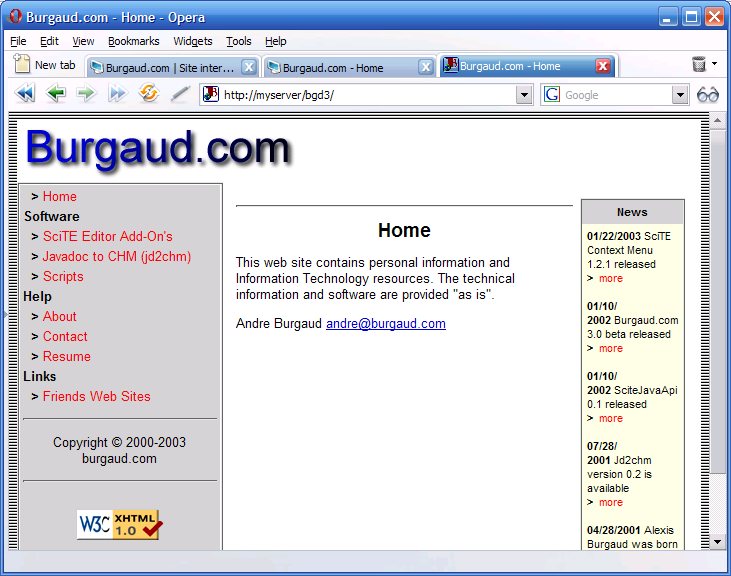 Burgaud.com 2.0
It came in Spring 2000. The content was related to our recent wedding with a post announcement. For this version Java took over JavaScript with a couple of Java Applets. Especially, the navigation menu was based on XeoMenu.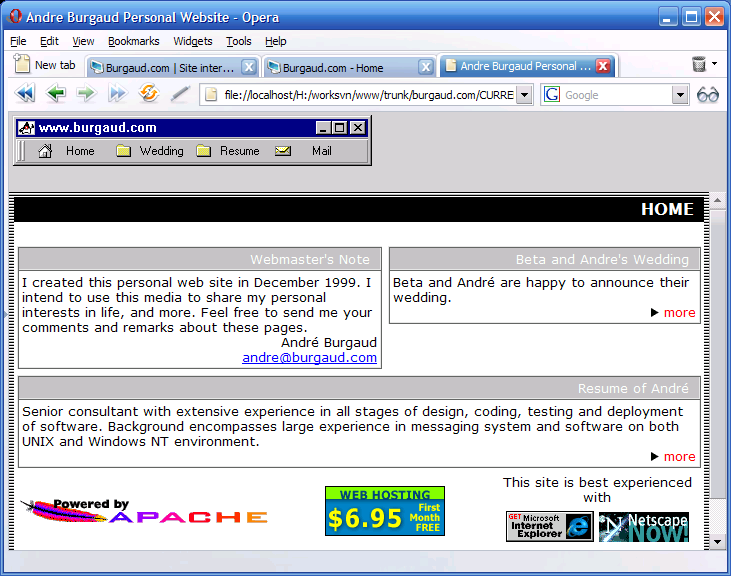 Burgaud.com 1.0
The first version of Burgaud.com was deployed on 12/28/1999. The main goal of the initial site was simply to share the information about our upcoming wedding at that time. The wedding took place on 02/19/2000. Technically it was an interesting experience to get my feet wet with domain names registration and to deal with different web hosting companies. The web site was composed of a couple of static HTML pages with some Dynamic HTML (JavaScript).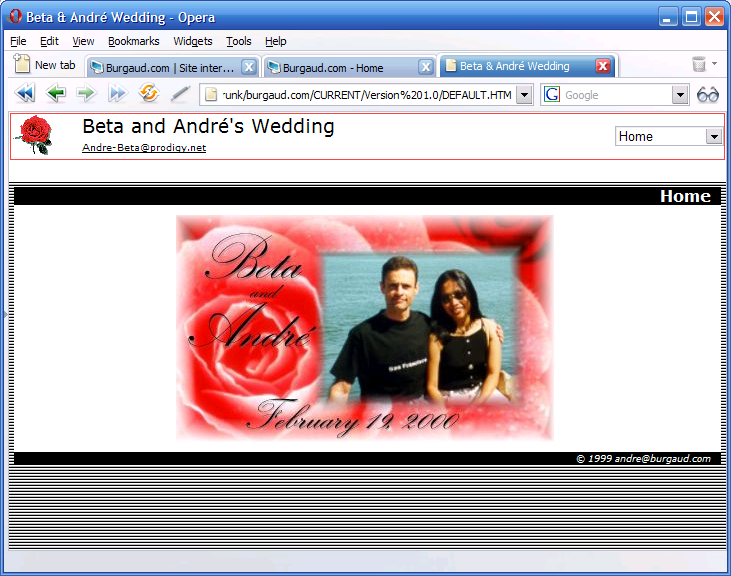 Recommended Reading
Textpattern Solutions is the reference you want if you decide to use Textpattern and Textile to power your blog or your web site.
Wikis are fascinating. At times I used this technology to power Burgaud.com. Wikis went beyond what is described in Bo Leuf and Ward Cunningham's book, The Wiki Way, but there is no doubt that Ward laid out the wiki concept in such a way that it is today one of the main ingredients of the "Web 2.0" culture.
Credits
Space Image Credit: NASA/Reid Wiseman @astro_reid